I can only describe the [massage] as profound. Yogita has a very powerful energy herself and was able to put me at ease and explain the process before the massage began.
It truly was a confronting and yet magical experience. Yogita was able to patiently guide me through the stages to the culmination and made me feel safe throughout. I can honestly say I can still feel the powerful effects of the ecstasy that I experienced when I was finally able to surrender fully; I feel that multiple emotional blockages have been resolved as a result. Yogita revealed that Shakti bliss exists within me!
I am so grateful to the Goddess for this experience; the massage was transformative. I left with renewed belief in the divine power that lies within us all.
Samantha, UK (London)
---
Thank you again for this wonderful experience. You made it meaningful, joyful, and beautiful. It felt just right.

It is so good to connect with the power of the yoni, to share it, and to see that there are such amazing open-minded, caring, and inspiring people in this world allowing this to happen.
Laura, France
---
Sitting after the massage, I just wanted to be in quietness and meditation. I have never had such a profound and deeply releasing experience. This is pure magic. To know that a woman is such an amazing creation, so deep and full of surprises, is a knowledge that will take you even deeper into the spiritual realm. It takes you to the present moment and removes all clutter from your head. Being alone and quiet after this is exquisite. This is one of the greatest experiences a woman can have and a pure blessing.
Once again, thank You, Yogita! I would love to learn this and master it the way you master it.
Katrin Silman, Estonia (Tallinn)
---
[This woman was a virgin when she came for the massage!]
All I can say is: GO FOR IT! I know it may seem scary… fully going out of your comfort zone, sharing your most intimate self with another… I was scared after making the appointment too. But deep down inside I knew it was something I had to do.
It's normal to feel a bit anxious, but don't let it stop you… It was truly a beautiful, life-changing experience. I discovered my body like I never had before, and got in touch with my sacred femininity. For me personally it changed my life, released blockages I didn't even know I had, and I came out of it feeling confident, overflowing with joy, and radiating (my friends even looked at me afterwards and told me I was glowing from inside out hehe).
Yogita made me feel comfortable right when I stepped in her house. She has such a pure heart and pure intentions. Her energy really made it much easier for me to let go and surrender to the experience.
I am overflowing with gratitude for this experience, and I will forever be thankful to Yogita for being such a loving sister…. <3 a true goddess that has inspired me a lot…. Thank you, Yogita <3
And if you think it's going too far out of your comfort zone, remember: "You are confined by the boundaries that you set yourself. The mind creates the cage. Set yourself free and move out of the comfort zone." 🙂
Aida Diop, Belgium/Senegal
---
Dear Yogita, I cannot sufficiently describe how amazing it was meeting you. Thanks a lot for your advice on my journey to the natural woman inside me. You helped me in self-confidence surrounding [my sexuality]. Thanks to you, I started to believe in true love again in every way. You are such a beautiful person! You will stay in my heart forever.
Jitka, Prague, Czech Republic
---
When I arrived, I felt the playful joy of Yogita and it gave me immediate confidence. The whole session was well embedded into a ritual, during which I was offered to let go of chosen aspects in my life and to invite new ones in. I perceived this as a supportive frame for the "work" itself.
To be honest I don't recall many detailed aspects of the massage itself, because I went quite fast into another state of mind which didn't keep track. But her presence and the way in which my whole body was touched felt very clear, loving, opening, to go into a more aroused state. I wasn't totally horny, but prepared to receive her touch from inside. I appreciate highly that she told me beforehand that she would enter now. This is very important for me.
I think what moved me most was when Yogita kept repeating, "Let Shakti come." I really felt that my ego, my control system was moving out of the center and making space for a higher force which expressed herself through me – within me. And then afterwards this beautiful peace of mind [came, and] everything slowed down. Day-to-day issues [have become] less urgent. And I simply want to be.
I perceive Yogita as an amazingly gifted woman, full of joy, energy, enthusiasm; [she is] precise and straightforward.
Ricarda, Germany
---
Была у Yogita на сеансе йони-массажа. Она мастер своего дела и очень приятный позитивный человек. К своей работе подходит с сердцем. До этого была на сеансе йони-массажа у мужчины и не получила желаемого эффекта. Yogita помогает расслабится, отключить мысли и получить удовольствие во время процесса. С ней я смогла в полной мере прочувствовать колоссальную энергию любви, сексуальную энергию во всем моем теле, ну и конечно получить оргазм, который я бы назвала более энергетическим оргазмом, чем обычным. Это непередаваемые впечатления и ощущения, которые я еще не переживала до этого в своей жизни. После сеанса улучшилось качество моей сексуальной жизни: я стала получать намного больше удовольствия во время секса, моя чувствительность повысилась. Тело стало получать намного больше удовольствия. Спасибо Yogita за то, что она делает!
Yulia, Russia
---
If you want to connect with your physical, emotional, spiritual self on the deepest level, allow yourself to receive this amazing offering that is unlike any other! Gift yourself with this love and attention you know you deserve. Surrender to God and Yogita – she is very professional, caring, and makes you feel so comfortable.
She guided me and helped me a lot to explore my yoni, let go, release some stuff, and move my energy. Wow, I felt so high after! It was the most powerful yoni massage I've ever had. I could experience total bliss at the end, it was beautiful!
I highly recommend that every woman have a treatment with Yogita and I'm so grateful for this wonderful session. Next year I want book one session per week!
Carole Fiocco, France
---
I'd like to again express my sincerest gratitude for the healing you gave me; I never expected it would be so totally amazing. I was so nervous about the whole thing, but from the moment I arrived, your professional attitude made me feel totally at ease. The way it was performed in a ritual style was so powerful and moving. It enabled me to release things I didn't even know I had locked inside! It was more effective than any other healing I have tried. I feel much more connected to my body now, and I can see clearly the things I need to work on to feel more whole as a woman.
Your soft and caring touch along with experience and intuition enabled me to actually relax, which really is a miracle for me! The effect this has had on my love life and the confidence this has given me is really the best gift I could have asked for. Things have really opened up for me now and I've been experiencing new sensations each time I make love. I feel so empowered.
You have a real gift and I admire what you are doing for women. I will most definitely be recommending you to all of my friends. Thanks again.
Zara Carruthers, UK
---
Dear Yogita, receiving a yoni message from you has been a deep and moving experience. You treat my body with such love and compassion that I feel deeply respected. This feeling of true respect has brought tears to my eyes as I realized I have not always been touched in a manner that has felt gentle and feminine. The yoni message has given me great awareness of the pain I still hold in my womb and has allowed me to release and move this energy with such care and love. Thank you for your humble kindness.
Beth Laskin, USA
---
I consider a yoni massage with Yogita an extraordinary intimate encounter. I realized I needed a yoni massage to explore more deeply who I was, both as a woman and as a spiritual being. I was curious to experience other forms of orgasm and enhance my sexuality.
My spiritual guide sent me to Yogita, and since I first met her, I felt like her approach was going to be clear and loving, with awareness of my physical, emotional, and sexual needs. I was not disappointed. Yogita was very present and attentive while helping me to understand my purpose of being there. As she noticed that I was a bit nervous she gave me a very pleasant and relaxing body massage. She was very attentive and caring when she touched my yoni, and I felt like I could surrender to her touch. The whole experience was extremely emotional for me; I was astonished to realize that there was so much deep-rooted pain to be released while she massaged my yoni. I relinquished control and that was so wonderful! During those two hours I have experienced a hell in my emotional pain as well as the surreal pleasure of my first ever G-spot orgasm. I can't find words to describe this experience.
Yoni massage has opened my eyes and my body to a new level of being and I will forever be changed by the experience.
Inna Fialka, Russia/USA (New York)
---
Yogita is such a special teacher. She has a beautiful way of helping others to open. She is a true representation of the Goddess; it is so inspiring to see her journey through Agama and be part of it!! She has helped me incredibly to understand myself and connect with my yoni, truly love my yoni! And become a Goddess myself, fully embracing my ability to express my feminine nature. I love how she has the perfect balance of being direct and strong in her teaching and guidance while being loving, affectionate, and open. So much Love, Gauri
Gauri (Carrie Algar), UK
---
I felt safe and free to express my self, in the sacred space that Yogita offered me during this journey. She was like a sister to me, took me by the hand to the depth of my intimacy. She is loving and devotional, so it will not be difficult to surrender once you're there, naked in front of an angel of God!
Laura Lancia, Italy.
Yogita can move energy! After several recommendations from others, I booked an appointment with her. I was nervous at first to open myself up to this experience, but Yogita was very professional and always made sure that I was relaxed and breathing. Once I let go and let Yogita have my body, everything from emotions to energy started to move and open up in ways that are unexplainable. Yogita has a very special touch and I'm already looking forward to my next appointment. 🙂
William Margita, USA
---
I had a wonderful experience with Yogita. It was my first adventure into the tantric world and I had only a very basic understanding of what our session was about. Yogita had a wonderful ability to create a sense of calm within me. I was immediately at ease with someone I had just met, which given what was to occur was very important. She spent time and energy explaining the massage process and what was expected and likewise not expected, and that both were appropriate and indeed, okay. She is the ultimate giver. Selfless, yet deeply involved and connected to you throughout the session. I felt safe and completely comfortable the entire way through!
The massage itself was enlightening and educational as well as being incredibly enjoyable. Yogita has an amazing touch and is obviously well versed in many techniques whose only goal is to bring you ecstatic joy in both body and mind.
I would highly recommend Yogita to anyone wanting to explore tantric practices and anyone wanting to understand their own sexuality and indeed how their sexuality and that of a partner can be enhanced through the practice of tantric methods.
Graeme, UK/Australia
---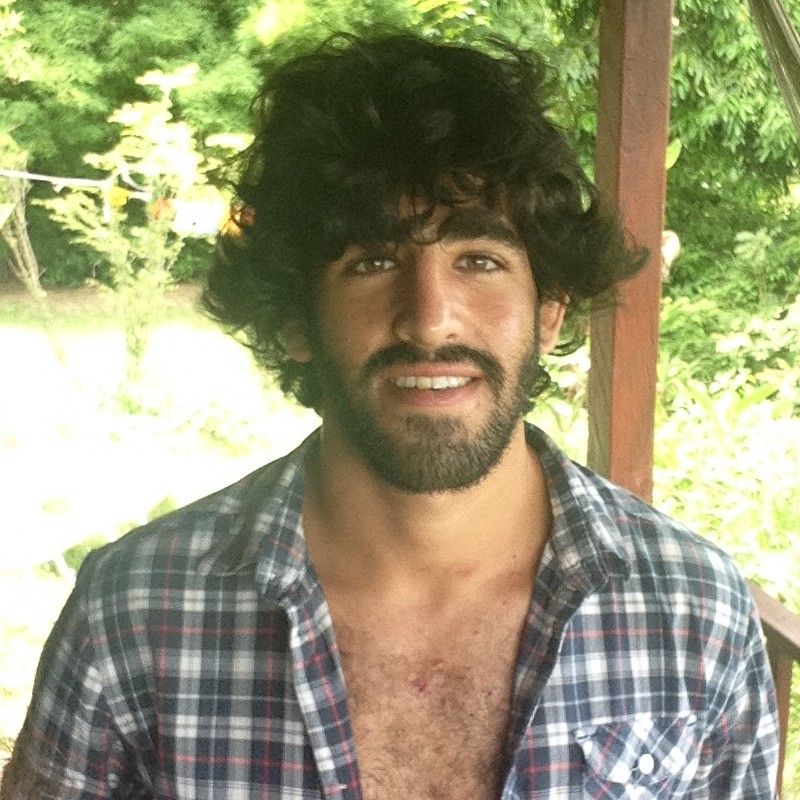 ---
"Discovering myself"
For many years, since the age of 6, all I have been told is: "Be ashamed, cover yourself, don't be naked, sex is bad – it's a sin, be careful. It has diseases." So only negative things.
When I grew up I discovered that I have a dick and that I can use it – for my own pleasure or for making children. I watched porn and masturbated, since I was 13, because it felt good. I had sex with my girlfriend and it felt even better! I did it in a certain way, the regular way: "The target: orgasm, ejaculation. The way to the target: in and out as much as I can until it feels good and then it's over." This is how they do it, this is how it should happen, I thought.
After several times with the same woman/way, I felt less and less. It became a routine and not exciting anymore. My girlfriend felt the same. So we tried different variations, which were nice, but then they also became routine….
After every ejaculation I had a strange feeling. I felt some emptiness, some loneliness, that I'm tired and weak. But I heard that it's healthy, so I lit myself a cigarette and ignored it. I also always felt that I'm not good enough, that I was coming too early, and that I wanted to improve my sex life.
My life continued to "roll" and one day I found myself in Thailand. I arrived to Srithanu, Koh Phangan. I got familiar with Yoga and started to practice and study Hatha Yoga in a school there called Agama. One day I participated in a lecture about brahmacharya. I can't explain all of it here because I don't have enough knowledge about it, but basically it's the way that the yogis treat and confront sex. I listened to it with an open and logical mind and decided that it has some truth and that I wanted to explore this subject. The main reason was: my sex life is not good enough, the same as for all the honest people I know (except "tantric people," at least from what I heard). Sex has so much influence on my life and, if it's not good, I want to fix it.
I asked at least five different people, with different backgrounds, around the area: "Where can I learn it? Where can I improve my sex life? Who is the best? Who can teach me the Tantra techniques?" I always got the same answer: "Yogita."­­ ­­Honestly, I tried to find any other answer, but I couldn't. So I spoke to Yogita. (Logic, huh?)
In the beginning I was a bit afraid, I didn't know what to say, what to ask for. But I was happy to see, from the first conversation, that I was dealing with a professional. She asked me a few questions, wanted to hear me, to understand my mind, my motives. Then she knew exactly what to say, how to guide me, what to offer me, how to explain it well – everything with a master's knowledge and a lovely attitude.
At our first meeting I arrived (to her fantastic place) so worried, confused, and tight, like a young groom with a condom on his head. After a long and relaxing talk, with theoretical and practical explanation, every spark of insecurity was gone.
From that moment, it all depended on me. When I managed to dedicate all my mind and body to the treatment it all went just wonderfully. I managed to seize the retention techniques and to control my sexual energy. When I arrived to the treatment not focused enough, it was harder to do it but Yogita felt it immediately and helped me to return to myself.
To be honest and clear – I haven't felt any spiritual, life-changing experience but I can say proudly that, for sure:
I improved my sexual ability.
I can control and even prevent my ejaculation.
I enhanced my sexual awareness.
I feel more confidence with my body.
I am better for myself.
I am a better lover.
I discovered a new way, a true way.
Some tips:
It's not magic – it's hard work. Do it only if you really want it, from the depth of your heart.
Be honest – with yourself and with Yogita. Don't be shy – it's a place where you can (and need to) drop all your masks and fears.
(I'm whispering)… If you already here and just read this: GO FOR IT! It's worth every second, every effort, and every penny.
Good luck!
Erez Zamir, Israel
---
Yogita has a gift and she is passionate to share it with those who want to explore their sexual power. In only one session I experienced a close connection with my male sexual energy and a beautiful new feeling of intimacy with the feminine energy. She opened a new door in my perception of sexual energy and the relationship between masculine and feminine. Yogita's temple is a special place to receive. Let yourself go in her hands and energy.
Alejandro, Spain
Teaching Yoni / Lingam Massage
[My husband] Sean and I went for the first time to get a yoni massage for me, and later together as a couple with Yogita, and we were blown away. It began a month ago when we were taking a Tantra course in which Yogita was assisting and were taken with a comment which she addressed to the group concerning more experienced Tantra practitioners initiating people that were newer to the ideas and practices. When I decided to go for my first-ever yoni massage I wanted it to be with her. And I'm so happy I did.
The space Yogita created was safe, secure, and allowed me to relax into whatever happened. I felt she was completely without judgment, wanting only the very best for me. And honestly I was nervous and anxious and didn't know what to expect, so feeling like I was so loved and appreciated by this awesome lady was like tripping and falling into a bed of feathers. A welcome surprise.
As I relaxed more and more, it became a truly therapeutic experience allowing me to see how I related to my own body. I learned so much about myself and was super excited when she recommended I bring Sean along for the next one. We've been together for 13 years and while the love and sex are great we also want our intimacy to continue to grow and evolve. Yogita perfectly positioned that opportunity in front of us.
The massage with Sean being there was a completely different and exciting experience. She asked if he wanted to participate or just watch and like most things he preferred to be "hands on." She worked first in each stage and then instructed Sean and he followed her lead as she coaxed and offered advice. Always gentle and caring.
By the time it was over it was like we'd all three grown together, developing a new bond, and a newfound respect for each other. Yogita could also witness the interaction between Sean and I during this super intimate experience and offered amazing advice on how we did, and sometimes didn't, empower each other with the words we chose. It was truly fantastic insight from someone that was objective with the ability to observe without judgment.
Mee Gray, USA/Korea
---
Yogita connected the dots when it came to understanding how to maintain the connection between Mee and I throughout the massage. It was like a tether was created in the beginning which connected us, and throughout the massage she was constantly showing how to strengthen that bond, building upon the moments before – always aware of the effects of every touch.
Sean Gray, USA/Korea
---
This workshop has been a liberating and amazing experience. It could seem a bit intimidating at first but it actually felt so natural and simple, and was full of good vibes and emotions. I felt at ease with everyone and everything, safe enough to let go and connect to deep, beautiful sensations that went beyond orgasm (even though that was also very enjoyable!). It was about the discovery of the soft, vibrant, vital feminine energy that lays in the yoni, and of the "architecture" of my inner temple. It was about releasing blockages, learning to receive, to express my needs, to trust and guide the giver, to replace shyness and shamefulness with enthusiasm and confidence. I was also moved by one of the final goals we all had in this workshop: healing, repairing, improved relationships between men and women, more harmony, more love. I was actually proud to contribute to this, so I didn't feel exposed in a bad way; on the contrary, coming under the gaze of other people felt like a beautiful gift for everyone.
Yogita made all these good things possible by creating a comfortable space – materially, emotionally, spiritually. I liked the fact that we all expressed our intentions at the beginning and were reminded of them when needed, which gave more meaning and focus. I loved how givers and receivers were both guided to focus their attention on the right thing at the right moment. I loved the presence of Yogita, so caring and supportive for everyone, not leaving anyone out, saying comforting words, and filling the whole space with joy, life, and sometimes laughter. But behind the fun, there were serious skills (my god, what is the magic in those fingers?!), great knowledge about how women work, clear explanations, and profound respect for our individual needs. We all learned a lot whilst having a great time.
I would recommend this workshop to couples who want to share an intense and memorable bonding experience and deepen their sex life, but also kick-start mutual communications which will transform their whole relationship.
I would also recommend it as a female model, to extend your comfort zone to an inspiring collective experience where you surrender for the greater good!
Anonymous
---
I did a lingam massage course with Yogita and I am very satisfied with the results. She is a very competent teacher who made sure I was following the steps throughout the course as well as letting myself being guided by intuition.
She was professional and playful at the same time, which made this intimate experience joyful and relaxed. Both my model and I were very thankful for the way she guided the session. It taught me a completely new approach to a massage where spirituality goes hand-in-hand with bodywork. It changed my perspective on sexuality and the way I used to perceive a human body. Thank you, Yogita. J
Aleksandra Pytlak, Spain
---
Gorgeous Goddess Yogita, no one can BEAT her!
My partner and I had the exquisite opportunity of having a lingam and yoni massage from the fabulous Yogita on the island of Phangan! We were heart blown and opened by her skills, care, teachings, and tenderness. It was an experience that deepened our union as a couple and further connected us to the sacred dormant potentiality of one another. Thank you, Yogita, for sharing your life work with us and being a powerful cornerstone in our evolution. Love and much admiration, Lucinda.
Lucinda Light, Australia
---
Visiting you has touched me deeply. The humbleness with which you function is beautiful. I would lie if I told you that I wasn't nervous, but upon arriving, that feeling faded away so quickly. You operate from such a humble place that makes it hard for me to feel intimidated.
I knew that I was about to take my clothes off, but that didn't matter anymore, that was no longer the point. The point now was that both you and Beth would be there, and that made me feel safe. Not intimidated or scared, but safe.
I learned so much. The ritual of taking off our clothes and with that also our fears and insecurities was powerful beyond words. I said goodbye to all the insecurities I have around my lingam and body features. I welcomed acceptance and up to this day, I still accept and even cherish my lingam. After the workshop, I felt so much more connected with my lingam. You treated him with so much respect and you gave me the self-confidence I needed to dive deeper into my sexuality without any shame. And that Yogita, is so unique that I struggle writing it down in words.
My lover, my partner, my angel, Beth. I see you different now. I see us different now. Through the exercises, I discovered new ways of pleasing you and perhaps more importantly, I learned not to be attached to certain outcomes (orgasm). To be fully here and focus all my attention on the movement. To accept our bodies as portals for the divine and, therefore, be fearless and full of love. I learned to look you in the eyes and to breathe together, right here, right now. When we have sex now, it is more magical, less superficial, and it feels like every time, we grow closer and closer together.
Since we took the workshop, Beth touches my lingam with more confidence and skill. She knows and understands better what I like and I now have the confidence to tell her if there is something I would like her to do differently. Myself, I dropped fears and insecurities, I learned to be here and to be fully aware of my own and my partner's divine body. I learned to go slow and approach the yoni with uttermost care. Oh and not that we are attached to orgasms, but after the workshop, Beth had her first vaginal orgasm with me. That was beautiful! 🙂 Thank you so much, Yogita.
Brecht Deriemeeke, Belgium
[A few months later they came for another session, and Brecht wrote me the next day:]
I wanted to let you know that after the lingam massage session yesterday, Beth and I made love around midnight … under the full moon, and I was able for the first time to sublime a lot of my energy upwards while making love. I almost passed out and felt one with everything and everyone. I felt so peaceful; all I could do was smile. Thank you so much. You have touched my life in such a beautiful way.
Wow…wow…wow… You are infectious and I am so looking forward to more of you when you return from India.
Thank you for your love, for holding such sacred, intimate, and healing space for all of us to begin some deep work of healing and growing… for all of us to meet our edges and go beyond….
I see in you the powerful qualities of the Goddesses Durga and Kali
I see in you the nurturing qualities of Lakshmi
I see in you the sexual, Shakti qualities of the goddess Freya
You are obviously following your dharma – your calling in this world… That is inspiring to me.
Yes, yes, yes to your website…. You have so much to share and offer to women and this world.
Jessica Frey, USA
[After a few months she wrote again upon her return home:]
Dear Yogita, I so appreciate you in my life these past six months… as a teacher, guide, friend, and fellow seeker and sister on the path….
Such a deep bow of gratitude – you have taught me to open my heart again and tap into the fountain of Love…. You have taught me about being a woman in love…. It brings tears to my eyes and a smile to my face…. Because of this my life is forever changed….
Please continue this work that you do with women – you have a divine gift…
---
The Women in Love Workshop with Yogita helped me open towards my fellow sisters in the group and everywhere I go. It taught me how to surrender more, think less, be more of a woman and less of a man. I now live with a deep knowing that everything is possible.
M, Netherlands
---
Thank you, Yogita, so much for your professionalism! You are fiery, sexy, and have a big heart!! It was really nice and I enjoyed being in this group with the beautiful ladies present. I'm sure each one of us takes something special from this experience! Thank you – you are beautiful! I love you, Elena
Elena A, Russia
---
I love you, Yogita! I have never met anyone so powerful, balanced, and pure. I don't really know your path. However, I can imagine how much work it has taken to become the amazing woman you are and it's so inspiring! Thank you again for being such an inspiration and warm, safe heart. Love and blessings, Mia
Mia Pursehouse, Australia
What I appreciate most about Yogita is her devotion to the work she does and her ability to be a no-nonsense strong leader and organizer and a warm-hearted, funny, and soft woman at the same time. She helps and inspires me the most by being who she is, an empowered woman who expresses many aspects of divine femininity.
Celien-Dakini, Belgium